SHOW 2nd Pan-European Workshop – Which path for a meaningful, sustainable and feasible CCAM in Europe?
Sep 30, 2021 @ 11:30 am

-

4:30 pm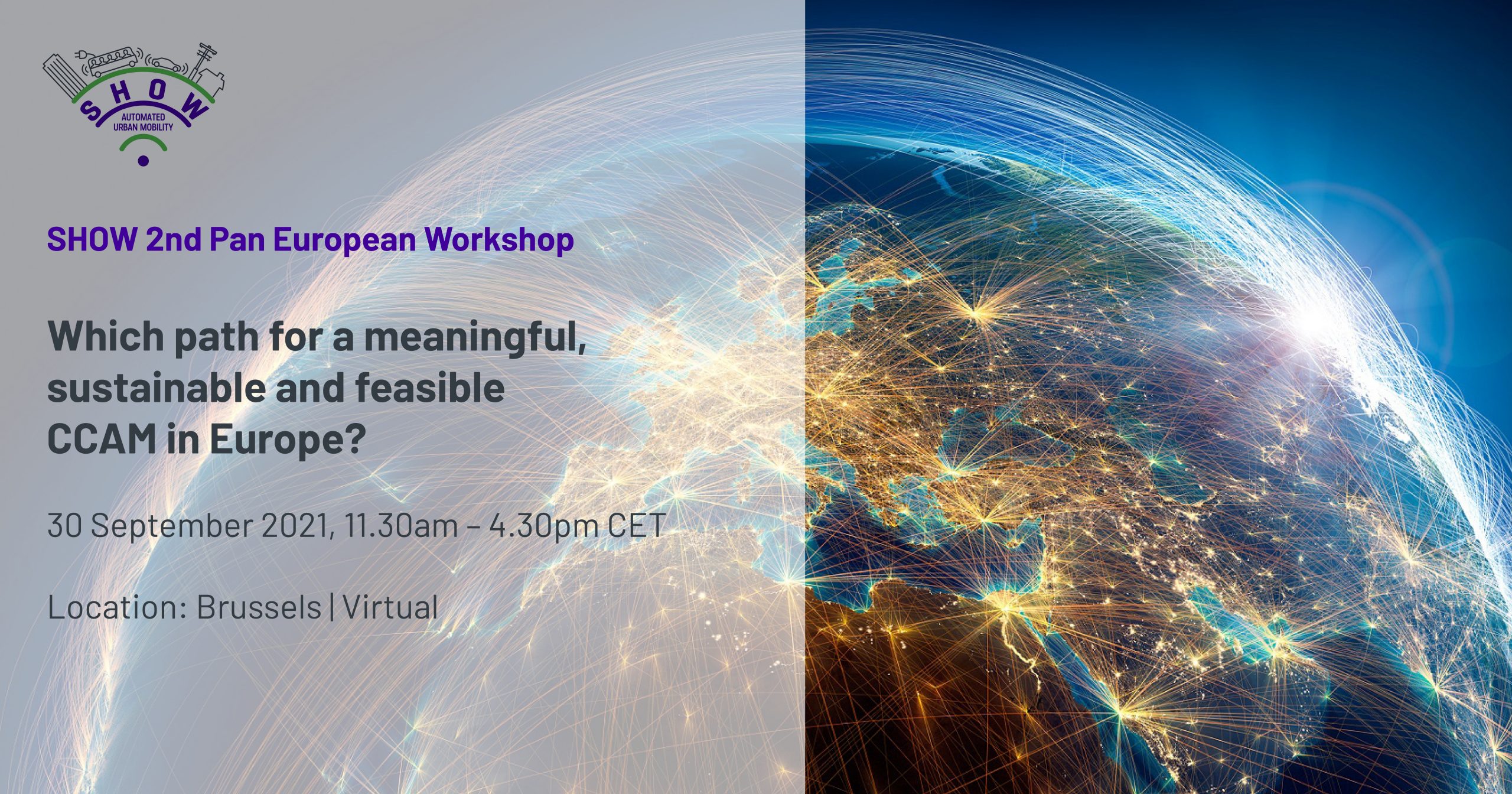 SHOW is moving towards its demonstration phase, in which fleets of shared Connected and Cooperative Automated Vehicles (CCAV) will be tested in 13 European countries in real life environments.
After 1,5 years and in preparation of the demonstrations next year, the SHOW partners have developed vehicle technologies, physical and digital infrastructure, business models, impact assessment methods, as well as added-value services based on AI and Big Data. But the project has also unveiled challenges that need to be addressed in order to ensure a meaningful deployment of CCAV in terms of technical feasibility and sustainability.
What are these challenges and how can we address them in Europe? What is missing in Europe in terms of regulations, infrastructure, manufacturing industries, or even citizens awareness to achieve a CCAM that we would define as meaningful? How do we want to position Europe in comparison with the strong competition from the USA or several countries from the Asia-Pacific region?
In the workshop, speakers from European and national governmental bodies, industry, public authorities and academia will try to find answers to these questions based on concrete experiences from the SHOW project and other initiatives.
Programme:
11.30am – 12.30pm: Keynote speeches
MP Mr. Damien Pichereau, Parliamentarian of French Assembly, Commission on Sustainable Development and Land Use Planning (Commission du développement durable et de l'aménagement du territoire – DDAT)
Tom Alkim, DG Research & Innovation, European Commission
Endre Angelvik, Ruter
12.30pm – 2pm: Lunch
2pm – 4pm: Interactive session based on the insights from SHOW partners (UITP, CERTH, VTI, AustriaTech and more to join) among others on needs for investments, for manufacturing industries, for testing, for research, and for harmonized regulations in Europe.
Anna Anund, VTI
Maria Gkemou, CERTH/HIT
Jussi Suomela, Sensible 4
Tamara Vlk, AustriaTech
Mihai Chirca, Transdev
Sophie de Lambert, NAVYA
Peter Staelens, EUROCITIES
4pm – 4.30pm: Wrap-up and next steps
The workshop will be held as an in-person meeting in Brussels (address will be communicated separately) in the respect of the sanitary situations imposed by the Belgium government. In this special context, the number of participants in person will be restricted to 50 and will be on a first-come-first-served basis. Each participant needs to check the travel requirements that apply to the respective country. Information on current measures for entering Belgium can be retrieved from this website. The workshop will also be live streamed online through a web platform. The link will be communicated after registration.
The event will take place on Sep 30, from 11:30 am – 4:30 pm CET.
You can register for the workshop here. When registering, please indicate whether you would like to attend the event in person or online.