Seamless automated vehicle chains for PT, DRT and MaaS (Rouen)/LaaS (Rennes)s

LOCATION
Rouen and Rennes are two regional metropolises (Rouen for Normandy, Rennes for Brittany region). Both cities are in the heart of an academic and research ecosystem composed of Universities and high schools (44000 students in Rouen, 68000 in Rennes), and a strong network of industries (automotive, telecommunication, engineering, SMEs…)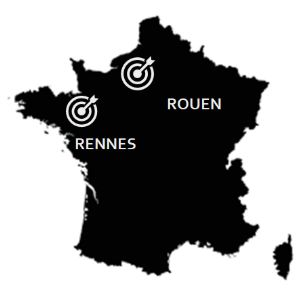 OVERVIEW
The two demos will deploy a fleet of 16 automated vehicles, to complement the existing service offers. Automated transport fleets of vehicles will consist of electric and connected autonomous shuttle buses and cars: 6 in Rouen (i-Cristal), 6 in Rennes (Navya & Easymile), and 4 on-demand cars in Rouen (Zoe Renault).
DISTANCE:
Rouen: more than 10 km
SPEED:
Rouen: 18 km/h, being enhanced to 30 km/h
Rennes: 18 km/h
AUTOMATION LEVEL:
Rouen: Level 4 SAE
Rennes: Level 4 SAE
Rouen: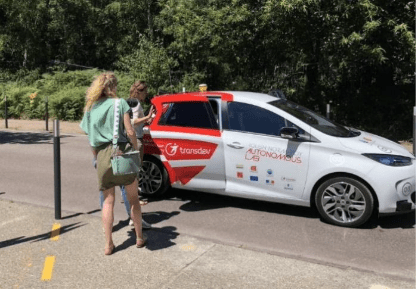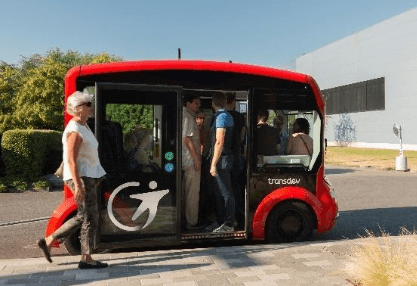 Rennes: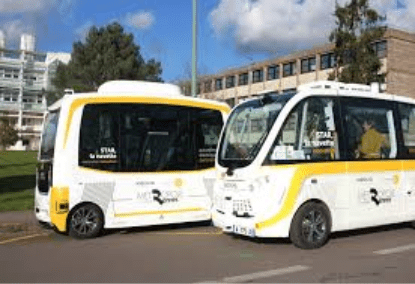 In both cases, the automated DRT service will connect an automated PT link (bus in Rouen, metro in Rennes) through automated DRT with a special point of interest (hospital, city centre) and will be also integrated in a MaaS ecosystem with autonomous vehicles (Rouen) / a LaaS one with cargo vehicles (Rennes). Thus, the demo covers automated PT lines with automated shuttles (DRT) and an automated fleet operating MaaS or LaaS.
Rouen: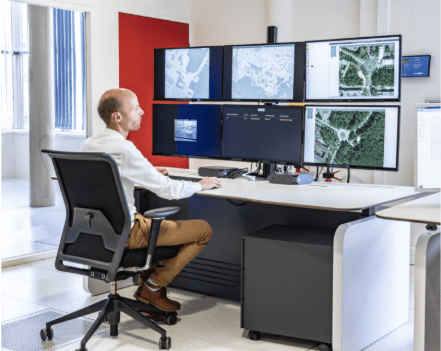 Supervision will ensure autonomous vehicles fleet tracking and management, allocating as needed and maintaining constant contact with passengers.
USER GROUPS
In Rouen, users are mainly residents and commuters, in the city centre users will also be tourists, scholars, road users.
In Rennes, the users will be the visitors and users of the hospital (with different levels of mobility and cognitive capacities), additional user categories will be medical staff, support staff and logistic staff, students.
PREVIOUS TESTS
 Rouen has already deployed the first on-demand transport service using autonomous vehicles on open roads in Europe with the Rouen Normandy Autonomous Lab project, in various suburban locations. Rouen Normandy Autonomous Lab has allowed Rouen Normandy Metropolis and its partners (Normandy Region, Caisse des Dépôts, Transdev, Renault, Matmut and FEDER / Europe) to gain a valuable experience and know-how from those on-going field operations. This innovative sustainable transportation service showcases innovative capabilities developed between key actors of tomorrow's mobility.
Rouen Normandy Autonomous Lab started in 2017 and now the next step is opened with SHOW: this new phase consists in the experimentation of 3 autonomous and electric mobility services by Transdev and Renault, such as Collective Public Transport on the territory of the Rouen Normandy Metropolis, committed to the development of intelligent mobility for all, with: autonomous shuttles in urban and peri-urban areas to complement and/or then replace a bus line; on-demand, electric, autonomous and shared cars to serve Rouen city centre, with fixed stops.
Rennes has been investing in autonomous transport systems (metro and shuttles) and innovation in mobility. The Rennes Metropolis SUMP and mobility policies have put an emphasis on experimentation in the INOUT initiative, which opens all the city's infrastructures to SMEs and companies willing to demonstrate innovative solutions. The chosen location for SHOW is the existing and future CHU (University Hospital Centre) which will become a car free zone and a hub for connection with the automated light rail system, buses and soft modes.
Both cities have a strong existing Public Transport network, including an international airport (Rennes), fast train stations, metro lines, BRT and conventional bus lines, on-demand minibuses, electric and conventional car and bike sharing. Transdev is the transport operator in Rouen, Keolis in Rennes.