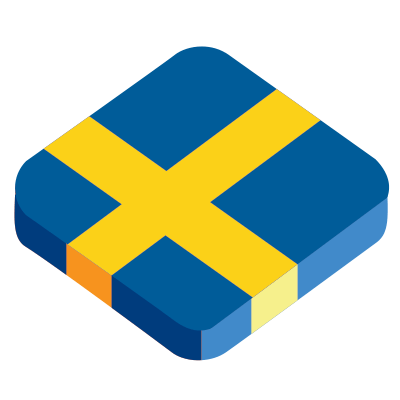 Digital and physical connected Mobility for Public transport hub and Campus Mobility ​
Vision
Automated Mobility as a ​Complement of Public Transport in Gothenburg​
As part of the Public transport system providing mobility in campus area of 1 x 0,7 km
Free service connected to public Transport hub​
Integrated in Public Transport service as line 68
The Service
Free of charge ​
Safety driver on board​
No prior booking // ride on the spot ​
Passengers can follow trips on the PTA app called ToGo​
Remote supervision from Paris​
FMS system from Autofleet
Fleet
3 Navya Arma electric AVs (battery), L4​
Target Passengers
People studying or working at the campus area or any interested passenger, from commuters to passers-by
The Route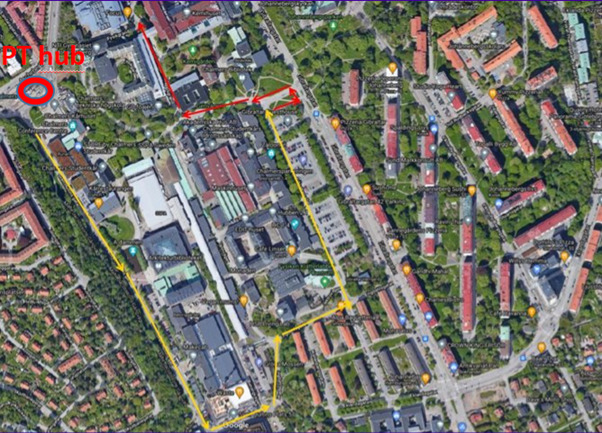 Use Cases
UC1.1 & 1.2 (normal & complex conditions), UC1.3 (interfacing other road users), UC1.6 (mixed traffic floes), UC1.7 (connection to operation centre), UC3.4 (automated services bus depot)
Local Ecosystem

Automated electrified shuttles as an integrated part of the future sustainable cities
Vision
To improve user experience for all users ​
To prove a robust, safe, and reliable operation of a fleet of electric automated vehicles
Provide a first and last mile solution to the existing PT.​
Increase the independent mobility for the children at the school in Vallastaden and for the elderly at the retirement home.​
Make the travelling to and from the University less car dependent.​
The Service
Free of charge ​
Safety driver on board​
No prior booking // ride on the spot ​
C-ITS is used to optimize the trips, but the service is not dependent on it
Fleet
2 EasyMile gen 2, L4, electric​
1 Navya DL4 Arma, L4, electric
Target Passengers
Students/ employees at the University, children at the school, elderly at the retirement home
The Route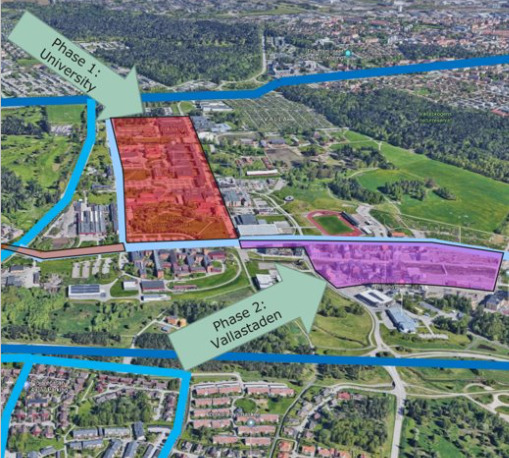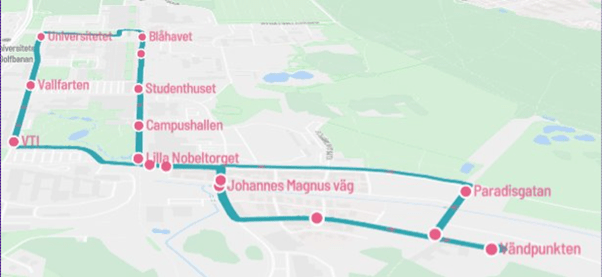 Use Cases
UC 1.1 – UC1.2 First & Last mile public transportation in mixed traffic (normal, complex conditions); UC 1.3 First & Last mile public transportation at shared space with VRU; UC 1.6 First & Last mile public transportation in mixed traffic; UC 1.7 ELIN operational Dashboard; UC 3.4 On-demand stop signal at bus stops; UC 3.1 Route optimisation based on passenger counting; UC 3.2 Personalised route (on & off) suggestion
Local Ecosystem