Automated Shuttles for Passengers Transport​ on Complex Urban Roads
Vision
Turin aims to foster multimodality and improve accessibility by improving the public transport system and integrating it with automated transport services and ITS infrastructure. It intends to trigger the penetration of automated mobility by fostering cooperation among private enterprises, local facilities, academia, civil society and investors.
The service
Free of charge ​
Safety driver on board​
On-demand service (IOKI)​
Passengers can book a ride via dedicated app​
Mixed traffic​
Connection to Navya's remote supervision centre during operation​
Each TL along the route is connected with the City TCC; info of each TL is retrieved by Navya shuttles using cellular connectivity.
Fleet
2 Navya Arma (passenger shuttle), L4, electric​
Target Passengers
Any interested passenger >18, minors accompanied by parents
The Route
Two automated shuttles drive between the hospital district of Turin and the Southern part of the city, along an authorized path of about 5 km.​
The eight shuttle stops (6 in the Northern part of the route, 2 in the Southern) overlap with public transport stops of the bus lines present along the path.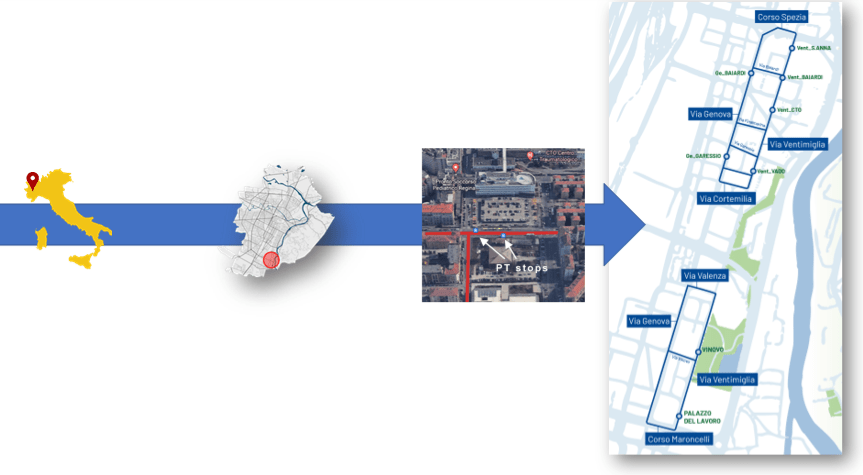 Use Cases
UC1.1 (normal conditions), UC1.2 (complex conditions), UC1.3 (interfacing other road users), UC1.5 (integration to TMC), UC1.6 (mixed traffic), UC1.7 (connection to operation centre), UC1.10 (seamless autonomous transport chain)
Local Ecosystem