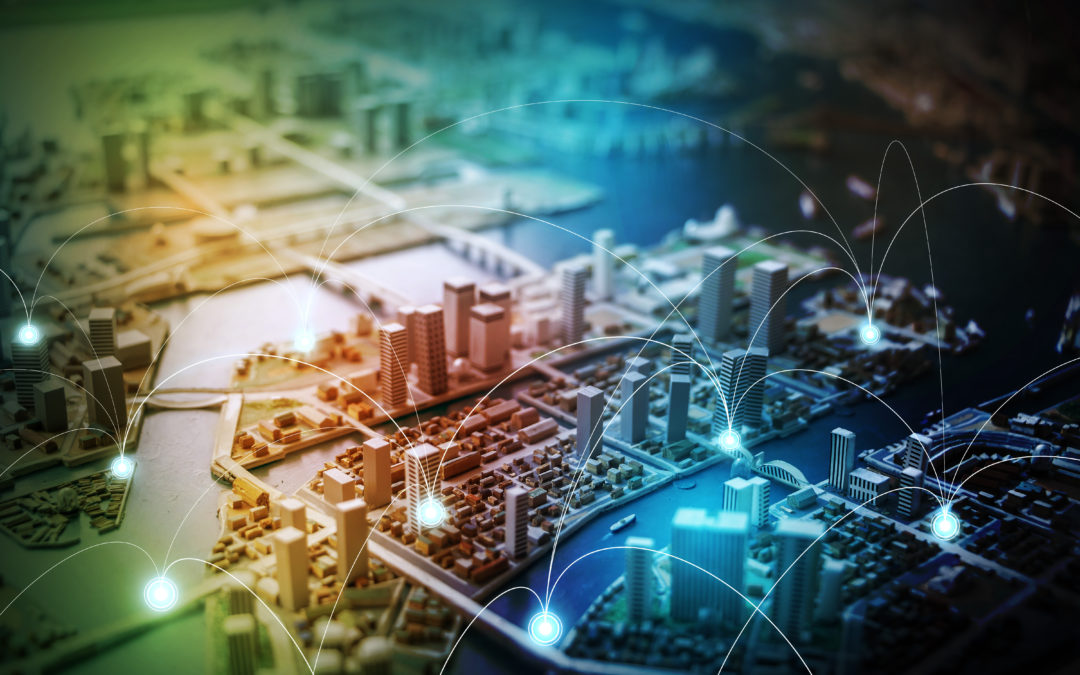 One of the objectives of SHOW is to explore business schemes for automated vehicles that are cost-efficient and can be adapted to existing and planned infrastructure, to fleets, as well as to different cities and regions and their operational and legal framework.
For this reason, several SHOW partners are investigating Business and Operating Models for Connected, Cooperative and Automated Mobility (CCAM). During Summer 2020, they worked on providing an overview of business and operating models for existing mobility services covering different types of services (MaaS, LaaS and DRT) and to benchmark them to identify relevant potentials for new business and operating models.
Below we summarise SHOW's first insights on business and operating models for CCAM:
Parking vehicles and therefore not used services do not earn money, so it is important to maximise the utilisation of the vehicle. So, considering a mixed mobility services approach (MaaS, LaaS and DRT) could open the way to new business models or to extend existing established business.
Consideration of the whole business ecosystem including all sub-systems (analysing the second and third line within the mobility service) and all user and operating roles is very important to generate an adequate view with all opportunities, costs and revenue streams to get a complete picture and to identify business potentials for cost reduction or increased business success
CAPEX (capital expense) and OPEX (operation expense) are the main barriers for earning money, but OPEX could offer business opportunities by extending the value chain for the mobility service itself by opening it up to new participants.
Analysing the state-of-the-art regarding mobility services, mixed mobility models have been identified as promising and potentially reforming a lot of traditional business models. A mixed business model means that a service combines two different approaches, e.g. the comfortable flexible transportation of DRT and a logistic service delivering parcels to customers. An example of such a future service is shown below.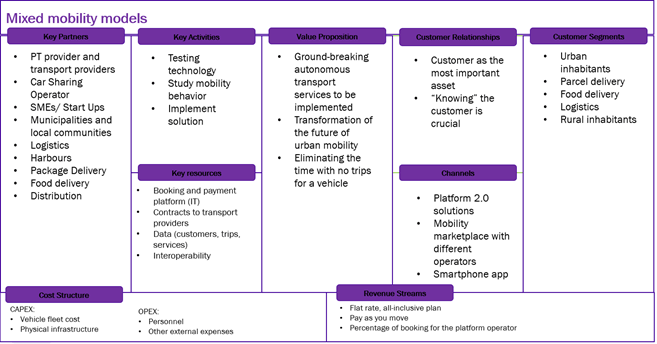 Furthermore, SHOW partners highlighted that behind these business models are complex IT systems for e.g. time planning, infotainment and routing.
Research and development in the digital ecosystems of automation is the market opportunity for OEMs, because generally these ecosystems have the tendency to blur industry boundaries and cause convergence.
All the conclusions and results together build the ecosystem for the development of new business and operating models of SHOW. These models will be further developed and demonstrated at the project's pilot sites in 2022-2023.
More information, please contact:
Jörg Worschech, IESTA – Institut fuer Innovative Energie-Stoffaustauschsysteme, Wien, Austria. Email: Joerg.worschech [at] iesta.at
Romina Quaranta, T-Systems International GmbH, Frankfurt am Main, Germany, Email: Romina.quaranta [at] t-systems.com
This article is a summary of the deliverable D2.1 called "Benchmarking of existing business / operating models and best practices", which will be uploaded to the SHOW website once approved by the European Commission. The deliverable was a collaboration between IESTA, Bax Innovation Consulting, T-Systems, Transdev, Swarco Mizar, CTLUP, and RISE – Research Institutes of Sweden.