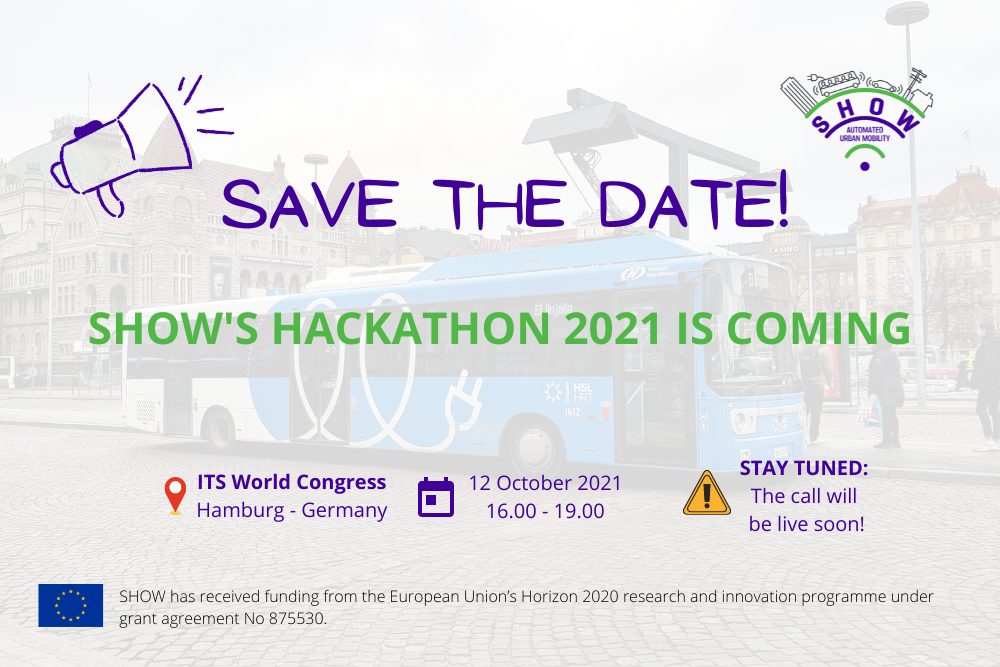 SAVE  THE DATE to actively join the interesting SHOW HACKATHON 2021 kick off event on Tuesday 12 October 2021, at the ITS World Congress – Hamburg (Germany)
SHOW aims to support the deployment of shared, connected and electrified automation in urban transport, to advance sustainable urban mobility. As part of its four-years' work programme, SHOW will see the integration of fleets of automated vehicles in public transport, demand-responsive transport (DRT), Mobility a Service (MaaS) and Logistics as a Service (LaaS) schemes thanks to its real-life urban demonstrations taking  place in 20 cities across Europe
To further enhance innovations, the SHOW project partners invite 'Engagement of local communities' developers and third-party service providers  to provide their added value services. Developers from the project, as well as externals from each SHOW Pilot site and beyond, are invited to utilize project tools and develop further added value services to meet unfulfilled recognized traveler's needs or interface/supplement SHOW developed services. During these events, designers, developers and scientists of diverse backgrounds will work closely with business analysts and user representatives (transport services operators, travelers, etc.) to develop the relevant services. The best services will get a prize and will be included in the relevant connected service cluster of the SHOW project.
The first appointment with SHOW's Hackathon 2021 is on Tuesday 12 October 2021 at the ITS World Congress in Hamburg. During this event, the participants will have an unique chance to discuss about the Hackathon's call, to meet their peers through a speed- networking , and to learn more about the topics of the challenge they will be working on. Open to all the innovators, from designers to scientists and developers, SHOW's consortium is looking forward to collaborating with the participants, to developing added value services for end-users of AVs, and to having fun in developing the mobility of the future.
A second event will take place in November (more info soon).
A detailed agenda and registration will be published in the course of the next weeks.