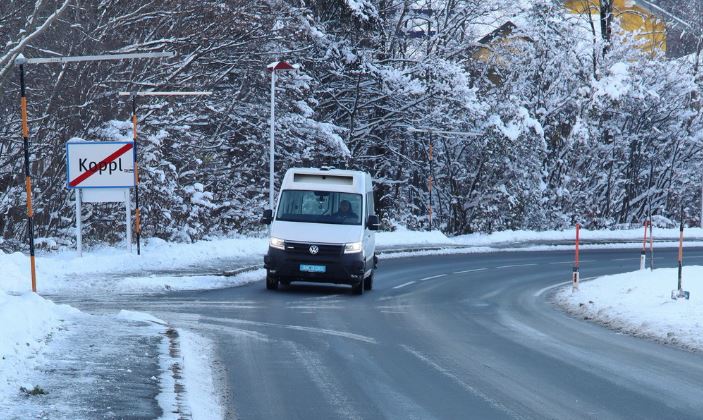 Salzburg Research: Test drives with the research vehicle in Koppl; Owner DigiTrans eVAN: DigiTrans GmbH, © Salzburg Research
In mid-December 2022, Salzburg Research and Digitrans GmbH made a significant breakthrough in Austrian automated mobility by conducting the first tests on urban roads for the Digibus® 2.0. This 100% battery-electric powered shuttle retrofitted VW e-Crafter boasts a modular design, open interfaces, and openly available data, making it highly competitive and adaptable to various conditions.
The vehicle's advanced sensor system, including eight radars, six LiDAR cameras, and four cameras with all-around vision, collected valuable data on the route during the December trials on manual mode. The results provided essential insights that will facilitate optimal integration of the technology as well as the deployment of the vehicle in autonomous mode.
Starting from April until October 2023, the shuttle 2.0 will run as a research vehicle in the Salzburg municipality of Koppl, complementing the town's public transport system. The shuttle's primary role at the pilot site is to serve as a research vehicle as a mode of transport on the first and last mile, with a driver onboard to monitor the functions and take control at any time.
Salzburg Research is the SHOW partner responsible for conducting this pilot test in Salzburg as part of the Europe-wide research project. SHOW aims to test automated transport to connect rural regions to intermodal mobility hubs. The research and test vehicle "DigitranseVAN" is made available by DigiTrans GmbH for Austrian research work. The vehicle is funded by the Federal Ministry for Climate Action, Environment, Energy, Mobility, Innovation and Technology.