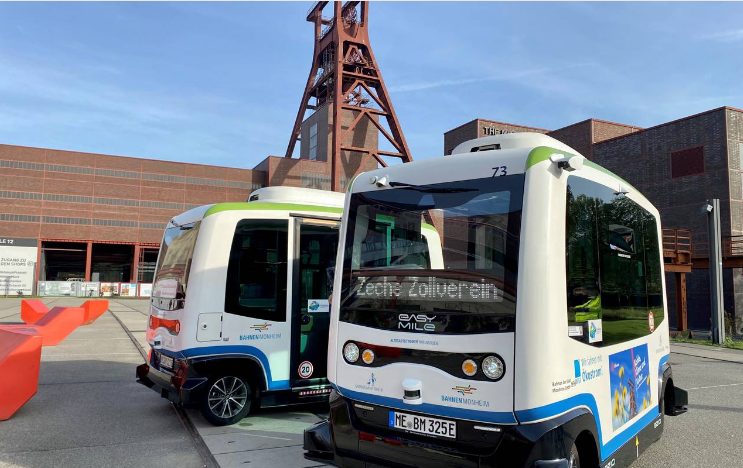 The Bahnen der Stadt Monheim – BSM (Railways of the City of Monheim), and the Zollverein Foundation organised an exciting event to test SHOW automated buses at the UNESCO World Heritage Site Zollverein. From 23 to 29 November, two compact automated electric buses operated on the historical grounds of the Zollverein colliery in Essen, Germany. The location offers the ideal environment for pushing the boundaries of autonomous driving beyond conventional urban settings.
Although the buses are driverless, a 'Safety Operator' accompanies the passengers to ensure their safety.
This one-week showcase at Zollverein marks the beginning of a journey toward a future where autonomous buses could operate without the need for a Safety Operator. As the tests progress successfully, further deployments are planned, offering a glimpse into the future of smart and sustainable urban transport.
These innovative self-driving buses aim to transform the future of urban mobility, providing a convenient and eco-friendly transportation solution. The knowledge acquired could prove vital for future smart city transportation, like the city of Essen and beyond.
For more information, here are some links to the local media to discover more about this fruitful test week:
https://www.radioessen.de/artikel/zeche-zollverein-in-essen-autonome-busse-bringen-besucher-von-a-nach-b-1802334.html
https://www1.wdr.de/nachrichten/ruhrgebiet/autonome-busse-zeche-zollverein-100.html
https://www.waz.de/staedte/essen/mobilitaet-von-morgen-e-busse-auf-zollverein-fahren-autonom-id239869669.html