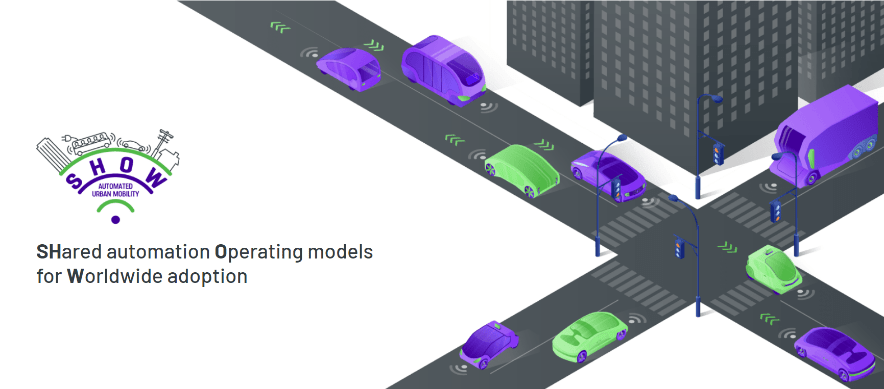 The SHOW Use Cases aim at the identification and elaboration of the priority urban automated mobility Use Cases of the project. They constitute the backbone reference document for the whole project development and demonstration activities to follow. To this extent, their description mainly sets the framework and describes the activities of the different Mega and Satellite sites of SHOW that will cover one of more of the UCs, while they also set the functional requirements that will be translated in technical requirements of the project's system architecture.
The identified Use Cases are clustered in 3 UCs families, covering the following areas:
Automated mobility in cities, referring to the automated passengers/cargo mobility in cities under normal and/or complex traffic & environmental conditions, interfacing also with non-automated vehicles and Vulnerable Road Users (VRUs), while also addressing the issues of energy sustainability, mixed traffic flows, integration to city Traffic Management Centre (TMC) and connection to Operation Centre, platooning for cargo/passengers transport and seamless autonomous transport chains.
Automated mixed mobility in cities, on how to use the same AV to transport passenger and goods either at the same time (spatial mobility) or at different routes/ times (temporal mobility), in order to enhance efficiency of AV fleets.
Added Value services for Cooperative and Connected Automated mobility in cities, including services that support and enhance the AV fleet usage functionality for the operator and the passengers, such as self-learning demand response passengers/cargo mobility, Big data/AI based added value services, automated parking applications, automated services at bus stops and depot management of automated vehicles.