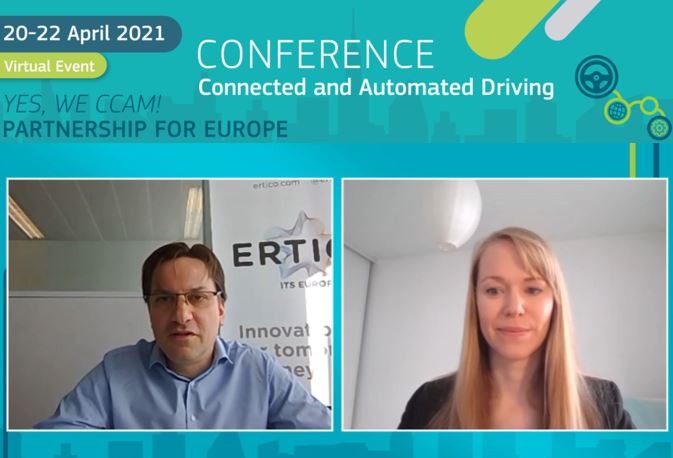 From 20 to 22 April 2021, the third European Conference on Connected and Automated Driving took place virtually, and SHOW was present!
The event brought together political leaders and Member States with high-level representatives of industry, knowledge institutes and road authorities to exchange knowledge and experience on the most recent technological developments and policies in the area of CCAM.
SHOW was presented during two breakout sessions: 'Large-scale demonstrations: What is the next level?' and 'Accessible & Meaningful: what does it take to make CCAM the citizen's given choice?'.
The first session on large-scale demonstrations reviewed the benefits, limitations and lessons learned of current demonstrations and discussed the needs for the next level, addressing if and how complexity of situations, conditions, speed or fleet size should be increased.
SHOW was presented by Project Coordinator Dr. Henriette Cornet from UITP, who highlighted the importance of citizens' participation in AV pilots and the inclusion of people with reduced mobility, those less tech-savvy, among others.
Also, Cornet said that it is essential to address the local context (in terms e.g. of geographical and cultural aspects when planning for demos and a variety of methods should be used to involve citizens such as surveys, ideathons, and dialogues. "Benefits of CCAM can only be reached if the citizens fully accept and use the CCAM services in their daily lives", according to Cornet. That is why CCAM demonstrations need to be conducted over a long period of time, as in SHOW.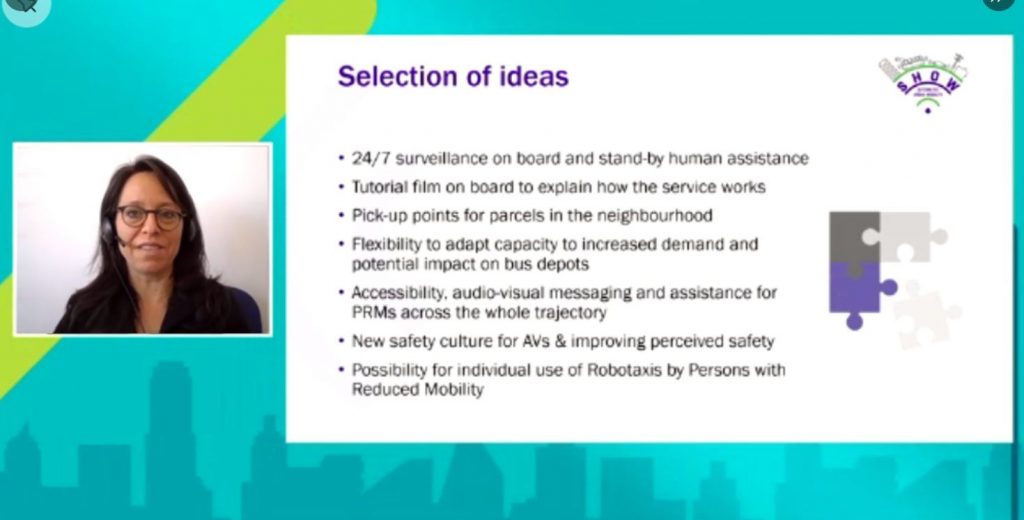 The session 'Accessible & Meaningful: what does it take to make CCAM the citizen's given choice?' consisted of an interactive session with panellists about opportunities and limitations of the different approaches when it comes to foster appreciated and attractive CCAM developments.
Here, SHOW was represented by Delphine Grandsart from the European Passenger's Federation, who is leading the User Engagement Strategy in the project.
She presented the ideas elaborated during the 1st SHOW Ideathon that took place with 39 participants in January 2021. These ideas will be further discussed and developed during the coming ITS World Congress in October 2021, this time in form of Hackathons.
In any case, beyond punctual user engagement in projects, "we need long-term structural involvement of citizens while developing and deploying CCAM", according to Grandsart.
More information: