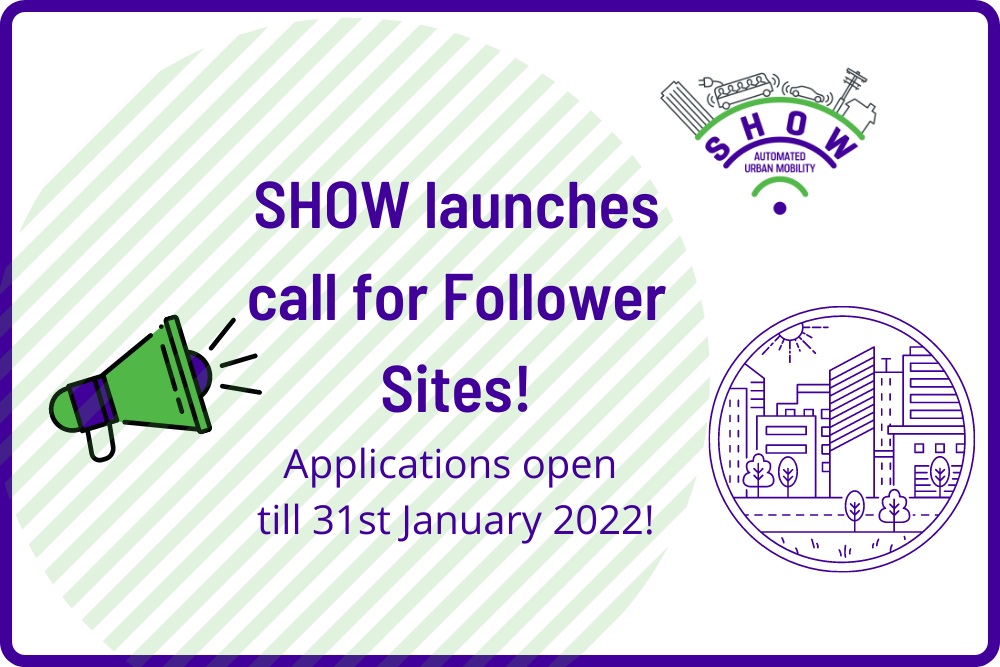 The SHOW project is looking for stakeholders interested in becoming a Follower Site of the project. The call is open to any public or private entity based in Europe, which has the ambition to either initiate, upgrade or expand shared CCAM services in a designated urban area. Interested stakeholders may apply till 31st January 2022.
Click here to download the full Call for Follower Sites
SHOW's Follower Sites have the opportunity to observe closely SHOW demonstrations and activities. Being SHOW EU's largest demonstration project of shared, connected, cooperative and automated mobility in urban areas, Follower sites have the opportunity to learn more about how to set up and operationalise shared CCAM services, and to benefit from dedicated support and tools in setting up multiplication plans and actions.
The application form for Follower Sites – which contains more details on our replication programme, the use cases and activities that will be featured and the selection criteria – can be downloaded from the project website by clicking here.
Applications and requests for further information can be sent to peter.staelens@eurocities until 31 January 2022.
SHOW activities
As of 2022, SHOW will start to conduct real-life urban demonstrations. These demonstrations will take place in 20 cities all around Europe and will last up to 24 months, with real service seamless operation in each pilot site lasting at least 12 months. In total, SHOW will deploy a fleet of more than 70 SAE L4/L5 AVs of all types for both passenger and cargo transport in dedicated lanes and mixed traffic, connected to a wide range of supporting infrastructure (5G, G5, IoT) and operating under traffic speeds ranging from 18 to over 50km/h. Other activities and outputs include the development of a common dashboard, marketplace, business models, user engagement strategies, recommendations for legal and regulatory requirements and integration of CCAM in Sustainable Mobility Planning processes
Our offer to Follower Sites
As part of the project's replication programme, SHOW aims to support the transfer of CCAM experiences, tools and learnings to at least 10 additional Follower Sites, offering them the opportunity to
participate in SHOW on-site demonstrations, workshops, webinars and trainings (workshops, webinars, e-courses) taking into account capacity, resources and areas of interest;
get acquainted with the SHOW system architecture and dashboard, plug in services and data;
get their services and solutions hosted and spread through the SHOW marketplace;
adopt business models, services and technologies derived from the project;
learn about impact assessment and KPIs for CCAM deployment and apply them in their context;
develop multiplication plans and actions endorsing SHOW Use Cases aligned with their local roadmaps;
network with our SHOW community of CCAM experts representing local practitioners, service and technology providers, OEMs, research and academia.
Together with the Follower Sites, we will develop a programme of activities that is adapted to their specific interests, capacities and availability. From May 2022 until December 2023, the follower sites will be engaged in SHOW physical and online events on a voluntary and flexible basis (reimbursement of travel costs is foreseen to cover participation in on-site demonstrations).
Follower Sites will also have the opportunity to develop multiplication plans and actions with input from SHOW experts, for which a dedicated consultation mechanism will be set up.
Multiplication Plans will define local context and partnerships, strategic ambition and objectives, selecte use cases and business models for uptake. They will also include a detailed roadmap towards future deployment, including  actions referring to the possibility of plugging data from Follower Sites into the SHOW dashboard and/or adopting business models developed by the project.
A Memorandum of Understanding will be signed by the SHOW project leader and the Follower Site representative describing mutual expectations and requirements.
Process and Timeline
The call for SHOW Follower Sites follows the timeline outlined below:
Opens: 16 December 2021
Closes: 31 January 2022
Assessment of applications: February 2022
Notification to applicant about the outcomes of the selection process: March 2022 
The selected Sites will be contacted in the course of March 2022 to further define their priorities and interests. On the basis of these discussions a programme of activities will be developed, and a Memorandum of Understanding will be concluded before the end of April 2022.
From May 2022 on, Follower Sites will be invited to join relevant activities, and to connect with the project and the SHOW Demonstration Sites via an online engagement tool, this until the end of the SHOW project in December 2023. For Follower Sites that are committed to developing multiplication plans and actions through a collaborative approach, a separate support scheme will be set up from May 2022 until June 2023. At the end of this process, multiplication plans will be consolidated and bundled by project partner Eurocities and submitted to CINEA in August 2023 as a formal project deliverable.
For more information, support and advice, please contact peter.staelens@eurocities.eu